Thank you for your support of my trip, both financially and from a prayer standpoint.  It was an amazing experience.  I ended up raising $5,000 in support and needed $2,900 to pay for my expenses.  The extra $2,100 will go towards the programs.
I'll summarize my trip in saying that it confirmed that a small yet concentrated effort can have a tremendous positive impact and make a difference in the lives of others.  In the poorest of areas I saw people who had a tremendous joy in their relationship with Jesus Christ.  They didn't have the baggage of materialism.
I'll use a short narration along with a lot of photos to tell my story.  Here it goes:
_________________________________________________________________________________
After spending approximately 30 hours traveling with 24 of it being in a plane we arrived!  All of our clothes were in our carry-on suitcase as you use your two checked bags to transport HIV/AIDS kits, school books, clothes, etc.  For 2 weeks in Africa with everything being in a roll-on suitcase I learned how to pack light.
The first half of our mission started out in the village of Karanse, which is near the base of Mt. Kilimanjaro.
The story of Karanse is that it was once a vibrant farming community.  In the early 90's several years of drought brought devastation and destroyed the economy.  Most of the men left their families, and many of the women turned to prostitution.  This in turn led to a domino effect of HIV/AIDS, tuberculosis, death and many children being orphaned.
In the late 90's a local minister, Pastor Warieli, had a vision to take a dried up cornfield and turn it into a center for children.  Where there was cracked soil he saw a school, medical care, healthy food, church and most importantly, love.   This vision has become a reality and lives have been impacted.  In Tanzania 50% of the population is under the age of 16.  These are the future leaders of the country, and education is the key to their future.
Below is the new addition to the school, built with funds raised by another team from our church that was there a few months ago.  They hiked Mt. Mt. Kilimanjaro to secure pledges.
The kids just want love and attention.  They looked happy, healthy and well fed.  They would swarm you, holding your hands, and like in the picture below if you sit down, they all hop in your lap.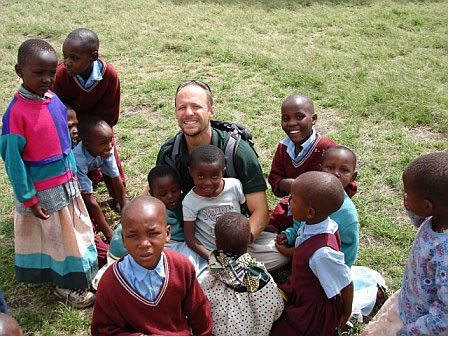 This was my little friend for the day.  She wouldn't let go of my hand.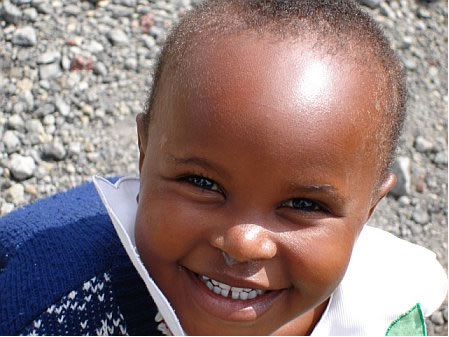 More little friends: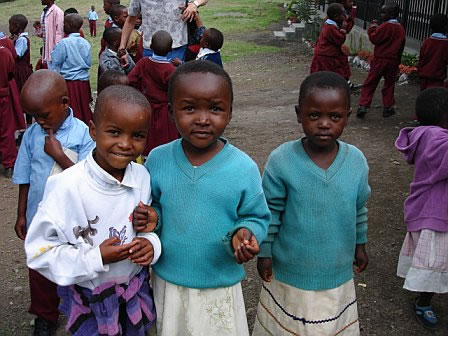 Pastor Warieli's program has 450 children, each are sponsored by people in the US and mainly in Atlanta, coordinated by our church and a global organization Compassion International.  The cost is $32/month to provide food, medical care, schooling and spiritual programs for them.   They are known as compassion children.  If you want to sponsor one please see me.  I can tell you that the money is well used and the children are doing great.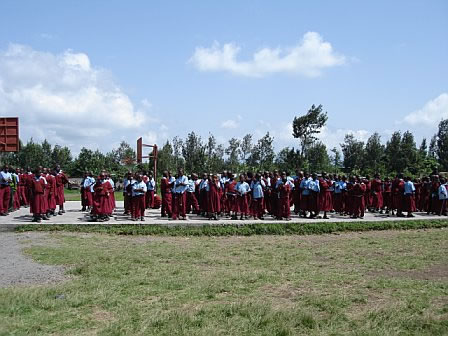 In the picture below is Diane.  She is sponsored by my friend Gail Clarke.  I brought Diane a care package from Gail and her family.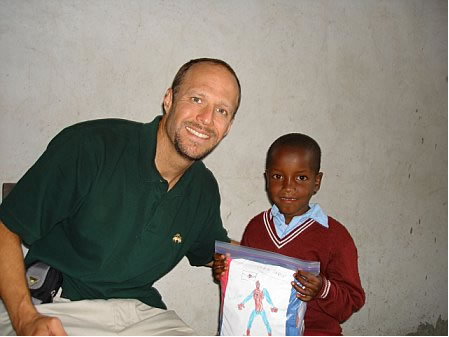 Some of the children in the programs are orphans, others have a mother who is a widow (children of widows qualify to be in the program).  Diane is part of the latter group.
I had the privledge of going to Diane's house, meeting and praying with her mom and siblings.  They are below.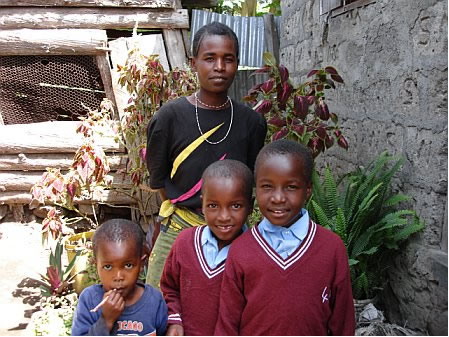 If you ever wonder if a child you sponsor receives or reads the letters and pictures that you send, let me confirm that they do at Karanse.  Below is a picture of a folder her mother showed me of every picture and letter that the Clarke's had ever sent Diane.  It was very precious to them.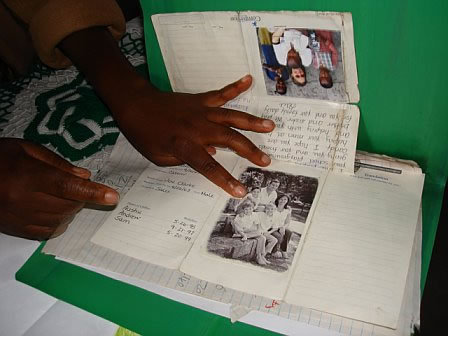 As a gift for visiting, Diane's mom gave me 5 eggs and a jar of milk.  I was overwhelmed, that a widow with 3 kids to feed and very meager means would share so much with me.  I was very moved and touched.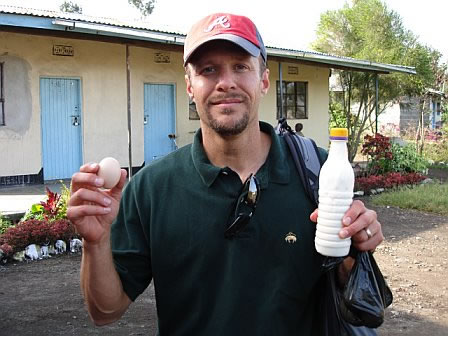 Gail's mother supports little Agape.  I delivered for her a care package.  She was ready to dig in!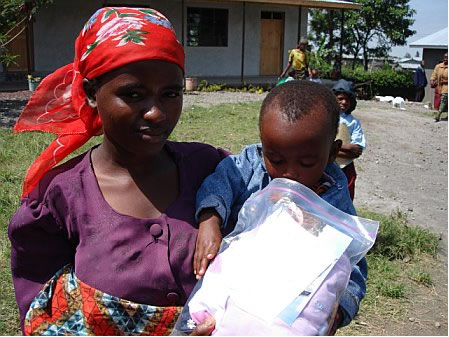 Karanse also has a program for the widows (the dignified name they use for widow is "Special Lady").  We went and visited 2 special ladies who lived far from the central village.
Road into the boonies (wait, we were in the boonies already and going further into the boonies):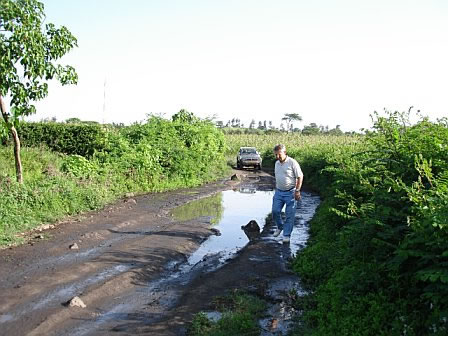 The picture below is of a special lady with her 5 kids.  The little boy in the background is an orphan that she took in (thus she cares for a total of 6 kids).  Orphans are common in this area, and many special ladies assume responsibility for them.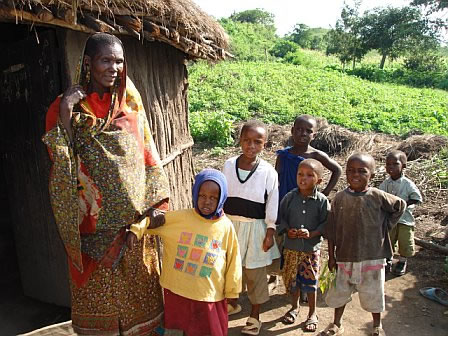 Below is her house that they all live in along with the goats.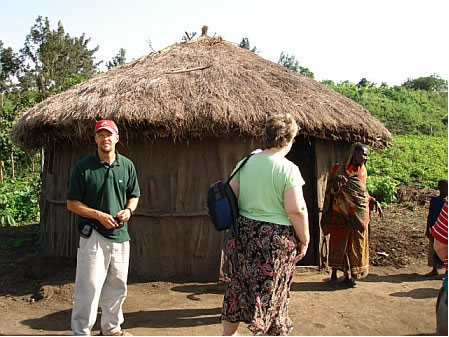 After visiting with her we laid hands and prayed for her.  She was quite sick and was seemed comforted that we took time with her and prayed for her: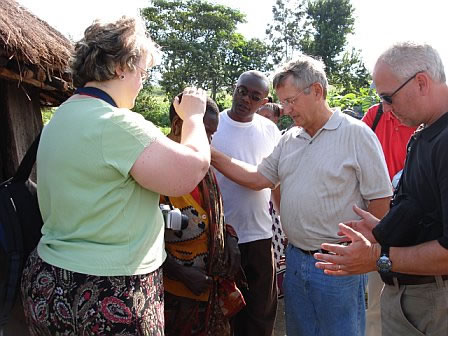 We then went and visited another special lady.  She was healthy, happy and had everything that she needed.  She had several children and all the kids and the goats live in the dwelling in the picture below.  She asked us to pray for her 20 year old son who was handicapped.  Below are 3 pictures of our visit with her.  She had so little from a material standpoint, yet was so happy and blessed: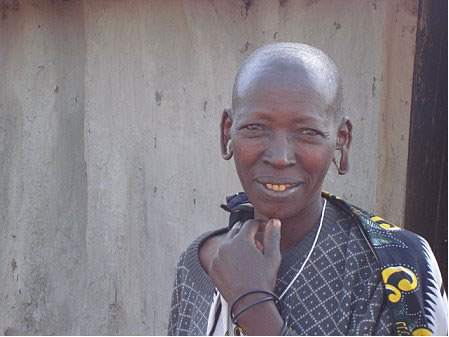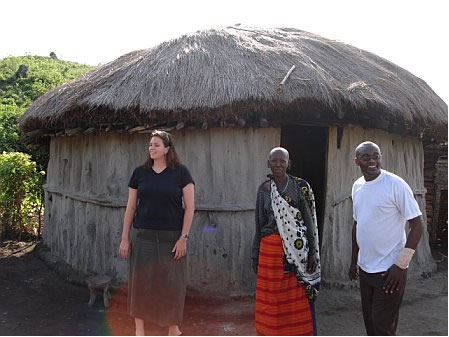 A side note: Our church has a goats and chicken program, where special ladies are provided with a goat and several chickens and are taught micro economics, the selling the eggs and milk to provide for the family and help them be financially independent.  The program is working and allows long-term self-sufficiency as opposed to having them dependant on others for aid.  The widows of my church provide the funds for the goats and chickens.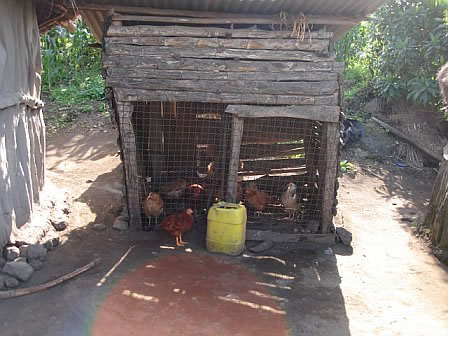 I saw God's hand everywhere.  I got up Sunday at 3am (not on purpose as being 7 hours ahead can make for an interesting sleep pattern).  After spending time reading my bible and in prayer I watched the sun rise over Mt. Kilimanjaro.  It is the highest peak in Africa at over 19,000 feet.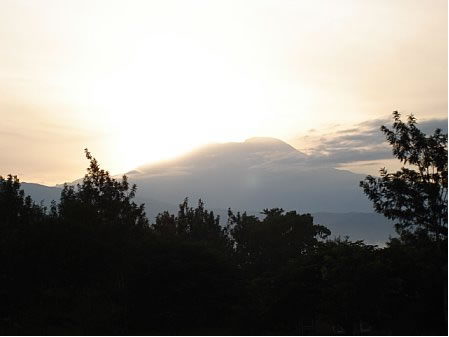 On Sunday we worshiped at the new church in Karanse.
Old  church building: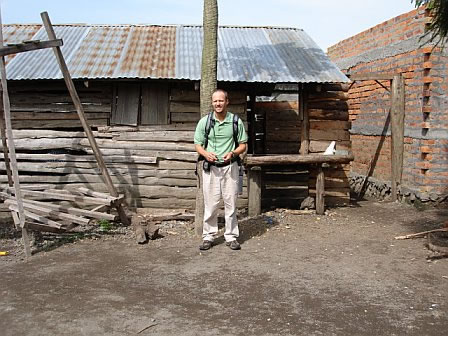 New church building recently complete (you can see the old church building back and to the left):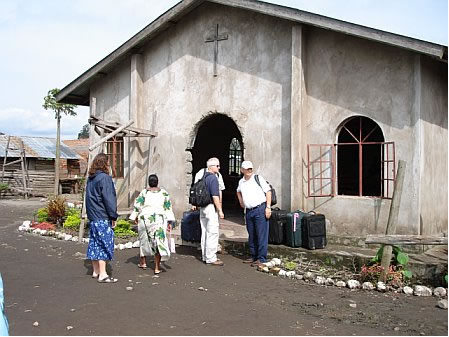 The worship service was like nothing I have ever experienced.  Dancing, singing, praising and happiness:
I preached the sermon at church.  The sermon was about the true joy I saw during my trips to Uzbekistan and Tanzania in the people who has Christ in their lives, not matter how hard the circumstances: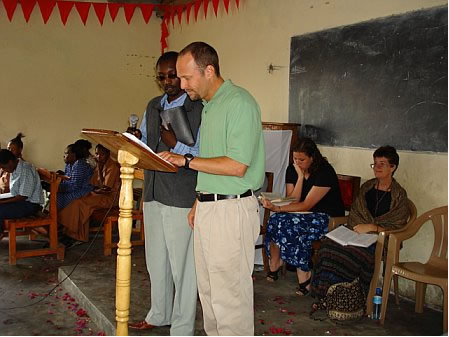 For the offering people put change in the pot, and you will also notice a live chicken at the left of the offering stand.  His feet were tied, but he was determined to get away so a man near me grabbed him and stuffed him under the pew.   Those are flower pedals on the floor.  A lady who we know as the flower-lady would dance and sing and throw the pedals everywhere.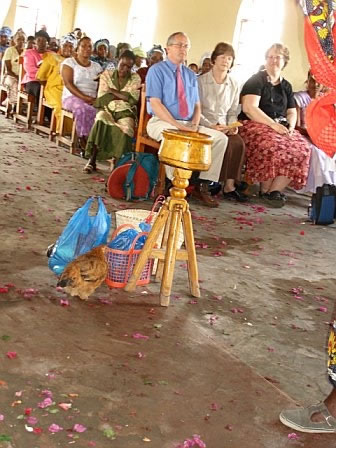 With our work done in Karanse, we traveled to Arusha.  The 2nd half of our trip centered around training Tanzanian pastors and women leaders (80 men, 20 women) in discipleship.  The training was 4 days long, and was the 3rd in a series of 7 (the next training date is in October).  We had large-group sessions, and after each session we would break out with a core group assigned to us (I had 8 men in my group).
I don't have many pictures from this part of my trip as we were so busy teaching.  We started with devotion at around 7:30am and finished up around 9:00pm each night.
In case you are wondering what discipleship is, it is meeting weekly with a small group of people that you are mentoring, investing in their lives.  Discipleship moves beyond the typical pastor/congregation relationship and goes very deep.  Our goal was to train leaders who can in turn train their key people in discipleship.  The participants come from all over Tanzania and one pastor had a 4 day bus ride to get there (not uncommon).   The same group of people stay together as a team for all 7 sessions.
We stayed and taught the discipleship training at a convent (I am not Catholic; they rent out the space to other church groups).  The place was secure (armed guards at night), had incredible food (it is almost totally self-sustaining complete with organic produce, their own beef and chicken raised and prepared on-site) and was an awesome place to do our training (we slept and worked there never leaving for 6 straight nights).
The convent: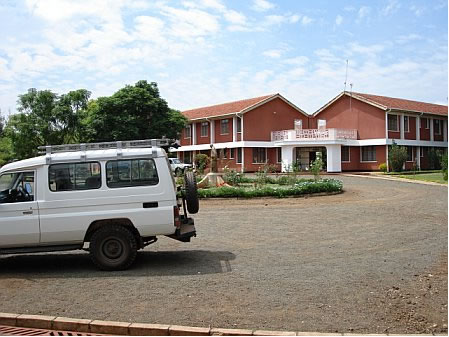 My team at the end of the week (we got very tight):
From the top left: Pastor Joseph, Bishop Pius, Pastor Lazaros, Pastor Frances and Pastor Samuel (everyone has old testament names).
From the bottom left Pastor Constantine, Pastor Anthony, Paul (serves in local HIV/AIDS ministry) and Pendaeley (music and worship leader).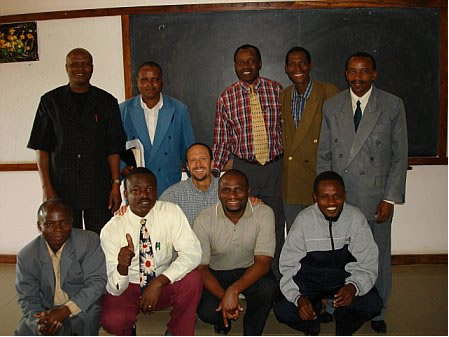 The worship there was awesome.  There was a lot of singing!  What great music.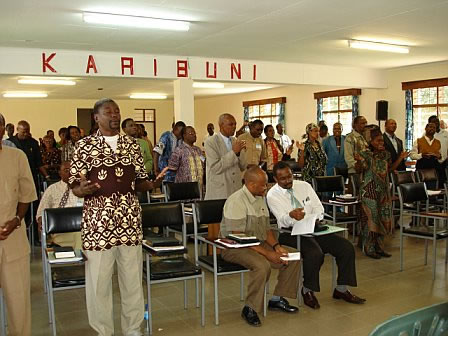 Group training: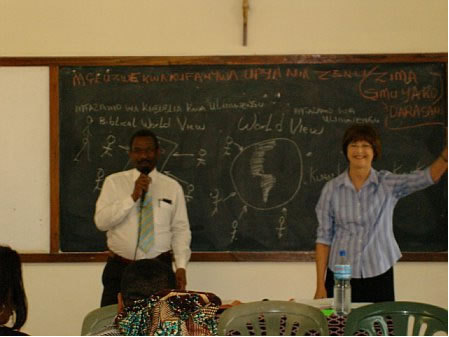 Below is Bishop Bartholomew and his wife Hilikah.  She led a lot of the musical worship.  What a voice and a talent.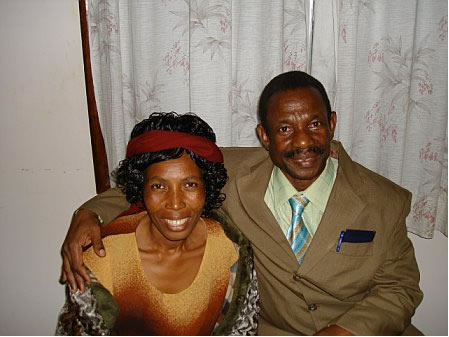 Sister Maryland, who took such good care of us.  She was really dedicated to serving others: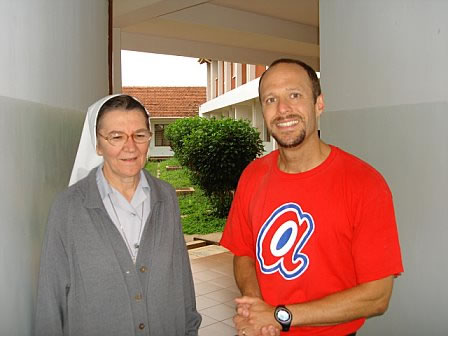 At the end of our training I was presented with a carved rhino.  This was unexpected and such a nice gesture: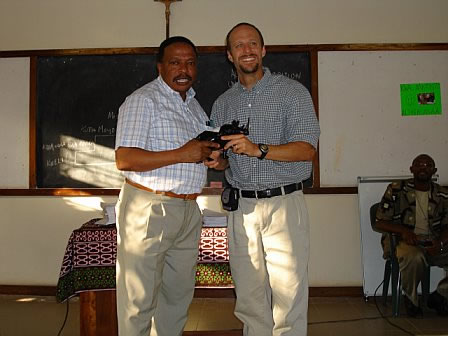 With the training complete we had 1 night on safari.  We stayed in fancy tents.
We took a safari into the Ngorongoro Crater.  It was an active volcano that become a mountain and eventually imploded.  We saw everything!  Cheetah stalking zebra, hippos, cape buffalo, etc.  It was a nice way to wind down prior to our flight after a very busy 9 days.  You were truly out in the middle of nowhere with wild animals everywhere.
A few of my favorite pics below:
Descending into the crater: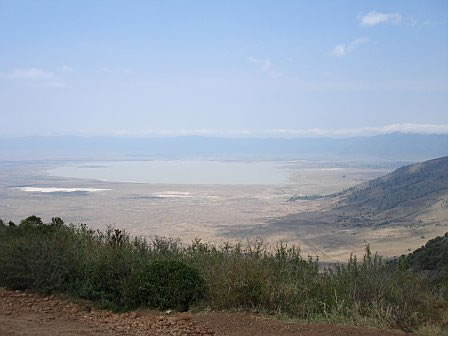 Hippo out of water: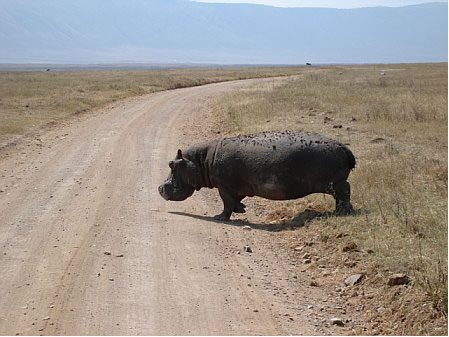 These were a dime a dozen: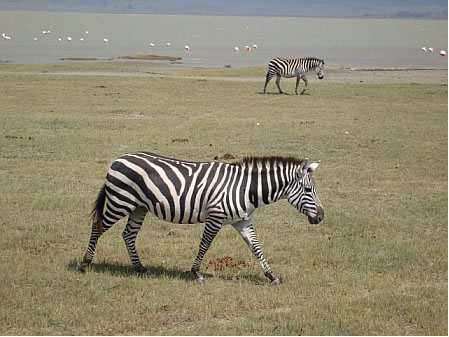 Cheetah stalking zebra colt: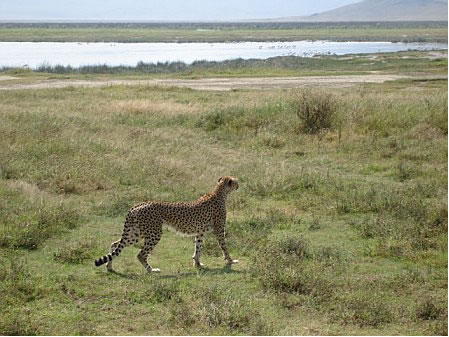 Stand off: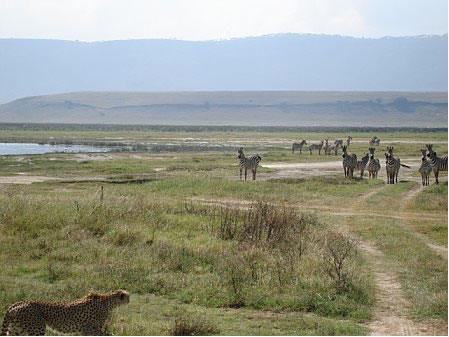 In the bush ready to pounce:
"Lunch":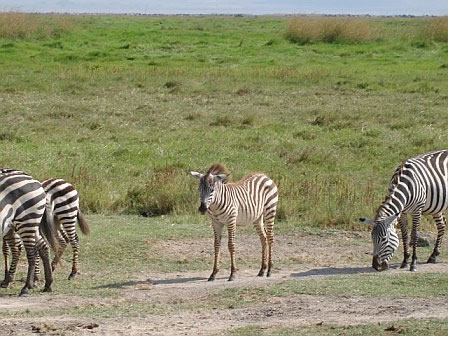 Yes they are this close and don't care: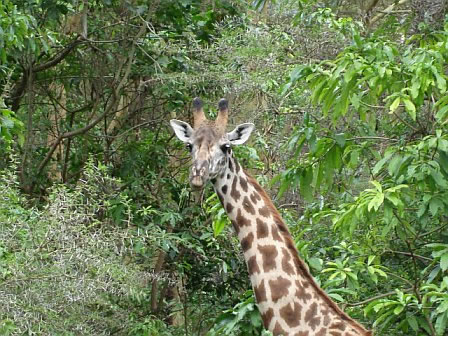 Momma and baby: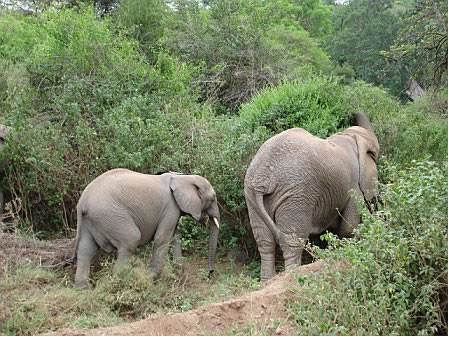 Baby baboon riding on mama: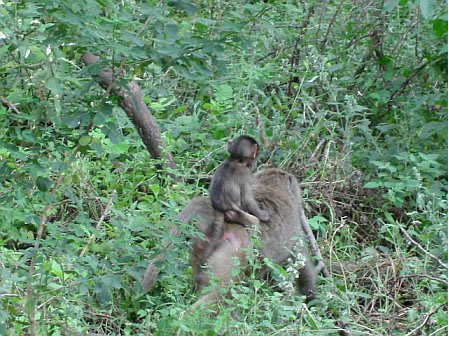 At night we had Maasai guards outside our tents.  They actually live in the park and walk around amongst the animals.  As soon as we laid down we heard the hyenas  near our tent.  I am glad we had our friends there to run them off (and anything else that decided to take a sniff of us).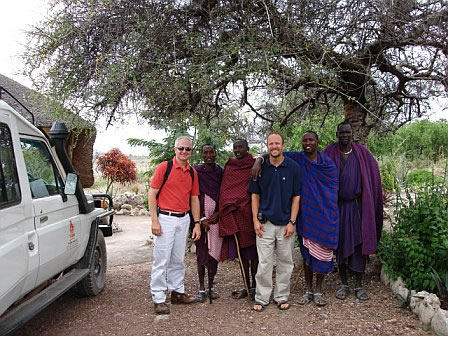 We left on Sunday and had about a 30 hour door to door trip home.  In the end it was so worth it and I hope to go back again one day.  What wonderful and kind people.  What a beautiful land (so lush and open).  Such outward poverty yet such inward and true joy.
Again thanks for your support.  Your prayers were felt!
Jason Smith